INVESTIGATION IS A VERY WIDER FIELD IN WHICH THERE IS A SOLUTION FOR ALL YOUR PROBLEMS EITHER IN YOUR PERSONAL LIFE OR IN BUSINESS.

Ours is an investigative and detective agency constantly in the pursuit of truth and verification. Our company principles are a perfect blend of traditional school values and modern hi-tech procedures. "Nothing can escape from our detective's eyes". They see truth and only truth.

Our detectives and verifiers accept toughest challenges and achieve targeted results. They are constantly updated on changing techniques and complex situations. "They are masters in pursuit of knowledge always".

There is a team of veteran and talented experts to guide the on field detectives and verifiers. We take care of all types of private investigations, such as, commercial civil, insurance, pre and post employment screening for corporate, financial inquiries, pre and post matrimonial investigations, divorce cases, shadowing recovery of assets for banks and private financiers under certifications of assets Acts.

We have a team of trained, qualified, experienced professionals to carryout assignments.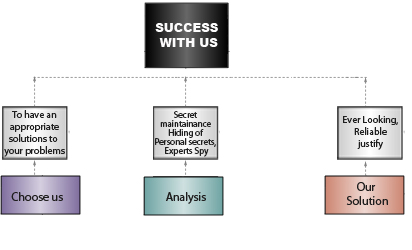 Our Directors themselves are graduated in the field of Criminology and Forensic Science, so they guide our staffs whenever the necessity arises. We maintain high integrity & confidentiality with our clients and 100% secrecy is maintained and our client's identity is not exposed on any circumstances. Our services are accurate, absolute and prompt. We would also like to extend our prompt services not only to our clients but also to the companies and individual who are not aware of our services.